Polycarbonate GE Lexan Marguard II Sheets
This Lexan (R) Margard sheet has maximum toughness, with mar resistance approaching that of glass, and significantly improved resistance to weathering.
MR-10 sheet provides extended service life. It has excellent clarity and durability, it is lightweight, and is superior glazing material for institutions,
office buildings, stores, and more. It will withstand -40deg F to 270 deg F. Has a silicone hardcoat surface. It is non-formable and UV resistant.
LEXAN MR10 sheet is mar- and graffiti-resistant. It combines the impact strength of LEXAN polycarbonate sheet with a proprietary abrasion
and UV-resistant MARGARD® II surface. It is warranted against yellowing, breakage, coating failure and loss of light transmission and offers
improved resistance to weathering and forced entry protection. It is useful for schools, store, transit shelters and other high-traffic areas.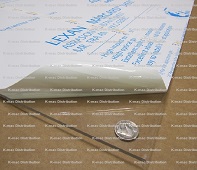 Bldg.Codes BOCA 92-15 ICBO 3286 SBCCI 9418 (1) Dade County 94-0203.02
CPSC:16 CFR 1201,1,11 ANSI Z97.1