Polysulfone Rods
Rigid Amber semi - transparent plastic with excellent steam resistance that is autoclavable and FDA compliant. It has excellent radiation stability.
Polysulfone Round Rods are used in medical
applications since it is autoclavable. It is Semi-Transparent. It Maintains Oxidative and Hydrolytic stabilities.
Polysulfone is known for its toughness and stability at high temperatures.
Highly resistant to mineral acids, alkali and electrolytes. It can be cleaned with bleach. Resistant to hydrocarbons.
Its high hydrolysis stability allows its use in medical autoclave conditions.
Its flame resistance is UL 94-V-0 at 1/4" thickness (6.35mm) and UL 94-V-2 at 1/8" thickness (3.175mm).
FDA/USDA Compliant, 3A Diary Compliant, NSF 61 Compliant, USP Class VI Compliant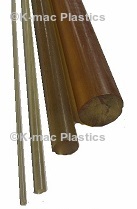 Technical Data Sheet
Standard Lengths
Size
1/4" to 1"
5 & 10 ft
1 1/8"-2"
4 & 8 ft
2 1/8"-2 1/2"
2 & 4 ft
2 5/8" to 6"
2 & 4 ft
Standard Tolerances
Size
Tolerance
1/4" to 1"
+.002/-.000
1 1/8" to 2"
+.005/-.000
2 1/8" to 2 1/2"
+.025/-.000
2 5/8" to 6"
oversize