PETG Co-polyester Sheet

PETG / Spectar® Co-polyester sheet is a thermoplastic sheet used in engineering applications. Vivak® offers the capability to
produce complex shapes, precise details, deep draws and compound curves without worrying about durability. It's easily formed, die-cut and punched.
It brings increased design freedom and lower fabrication costs. Vivak® Sheet has the impact strength and fabrication ease that acrylic can't touch,
with the durability to significantly reduce packaging and shipping costs. It has many advantages of polycarbonate without the high material costs.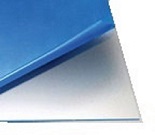 Applications:
Electronic packaging
Medical Lab Equipment
Machine guards
Merchandise displays