PEEK Plastic Sheets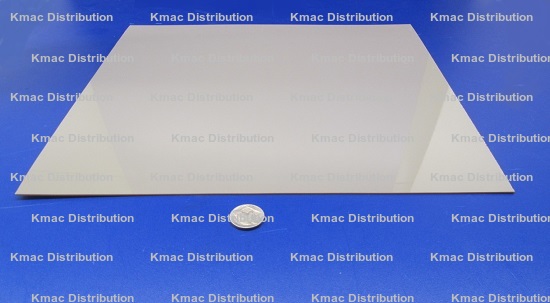 PEEK provides excellent chemical resistance combined with heat resistance to 480°F.
Used in steam or boiling water applications, PEEK experiences no significant decline in its properties.
Applications include high pressure liquid/gas chromatography parts, chemical pump gears & wear plates, plasma arc torch bodies,
insulators & connectors, steam cleaning equipment, automotive manual, and transmission thrust washers. PEEK is used in harsh applications in the chromatography industry.
PEEK Chemical Resistance

30% Glass-Filled Sheets Further Below
Part #
Thickness (in.)
Size (in.)
Price
Order Online
KS-38900
.002"
25.5 Wide
$49.84 Per Linear Foot
Add to Order
KS-38901
.00048"
26.25 Wide
$15.08 Per Linear Foot
Add to Order
KS-6444
0.003
12 x 12
$35.10
Add to Order
KS-6437
0.003
24 x 24
$111.42
Add to Order
KS-10473
0.003
24 x 300
$1,249.90
Add to Order
KS-10472
0.003
24 x 600
$2,785.00
Add to Order
KS-10464
0.003
24 x 900
$4,177.50
Add to Order
KS-10463
0.003
24 x 1200
$5,570.00
Add to Order
KS-10573
0.005
12 x 12
$53.38
Add to Order
KS-10574
0.005
24 x 24
$143.20
Add to Order
KS-10462
0.005
24 x 300
$1,789.50
Add to Order
KS-10526
0.005
24 x 600
$3,579.00
Add to Order
KS-10458
0.005
24 x 900
$5,368.50
Add to Order
KS-10503
0.005
24 x 1200
$7,158.00
Add to Order
KS-10570
0.010
12 x 12
$62.21
Add to Order
KS-10562
0.010
24 x 24
$272.46
Add to Order
KS-10560
0.010
24 x 300
$3,405.50
Add to Order
KS-10559
0.010
24 x 600
$6,811.00
Add to Order
KS-10558
0.010
24 x 900
$10,216.50
Add to Order
KS-10557
0.010
24 x 1200
$13,622.00
Add to Order
KS-38902
.015"
24 Wide
$176.94 Per Linear Foot
Add to Order
KS-38903
.020"
24 Wide
$284.02 Per Linear Foot
Add to Order
KS-38904
.030"
24 Wide
$355.88 Per Linear Foot
Add to Order
KS-38905
.040"
12 x 12
$215.30
Add to Order
KS-38906
.040"
24 x 48
$970.00
Add to Order
KS-7880A
.048"
24 x 48
$1,076.00
Add to Order
KS-38907
.062"
12 x 12
$353.46
Add to Order
KS-38908
.062"
24 x 48
$1,428.00
Add to Order
KS-7880B
.080"
24 x 48
$1434.56
Add to Order
KS-7880C
.093"
24 x 48
$1,692.00
Add to Order
KS-7880D
.118"
24 x 48
$2075.92
Add to Order
KS-7880E
.125"
24 x 48
$2278.38
Add to Order
KS-7880F
.156"
24 x 48
$3,176.00
Add to Order
KS-7880G
.187"
24 x 48
$3,884.00
Add to Order
KS-3052B
0.250
12 x 12
$450.06
Add to Order
KS-7905
0.250
12 x 24
$870.56
Add to Order
KS-7960
0.250
24 x 24
$2,308.56
Add to Order
KS-7880
0.250
24 x 48
$2,910.56
Add to Order
KS-5189
0.375
12 x 12
$422.51
Add to Order
KS-356
0.375
12 x 48
$1,502.26
Add to Order
KS-5188
0.500
12 x 12
$492.92
Add to Order
KS-7975
0.500
12 x 24
$985.82
Add to Order
KS-357
0.500
12 x 48
$2,070.24
Add to Order
KS-4951
0.500
24 x 24
$3,116.88
Add to Order
KS-5171K
0.500
24 x 48
$5,934.96
Add to Order
KS-2690A
0.750
12 x 12
$727.66
Add to Order
KS-5164K
0.750
12 x 24
$2,337.66
Add to Order
KS-358
0.750
12 x 48
$2,657.51
Add to Order
KS-5162
0.750
24 x 24
$4,675.29
Add to Order
KS-5173
0.750
24 x 48
$9,350.61
Add to Order
KS-7692
0.875
12 x 12
$929.52
Add to Order
KS-7691
0.875
12 x 24
$1,901.30
Add to Order
KS-7690
0.875
12 x 48
$3,548.12
Add to Order
KS-7689
0.875
24 x 24
$3,305.70
Add to Order
KS-7720
0.875
24 x 48
$6,760.16
Add to Order
KS-2691A
1.000
12 x 12
$962.36
Add to Order
KS-5159K
1.000
12 x 24
$2,021.36
Add to Order
KS-359
1.000
12 x 48
$3,849.46
Add to Order
KS-5157K
1.000
24 x 24
$6,734.59
Add to Order
KS-5156K
1.000
24 x 48
$11,972.60
Add to Order
KS-7935
1.250
12 x 12
$1,197.10
Add to Order
KS-7936
1.250
12 x 24
$2,394.30
Add to Order
KS-7937
1.250
12 x 48
$4,788.60
Add to Order
KS-7938
1.250
24 x 24
$5,387.18
Add to Order
KS-5155K
1.500
12 x 12
$2,338.94
Add to Order
KS-5154
1.500
12 x 24
$4,677.88
Add to Order
KS-360
1.500
12 x 48
$4,788.60
Add to Order
KS-7703
1.500
24 x 24
$4,788.60
Add to Order
KS-5184K
1.500
24 x 48
$17,820.50
Add to Order
KS-7700
1.750
12 x 48
$6,668.22
Add to Order
KS-7698
1.750
24 x 48
$13,331.90
Add to Order
KS-5186K
2.000
12 x 12
$3,106.40
Add to Order
KS-5163K
2.000
12 x 24
$5,916.96
Add to Order
KS-361
2.000
12 x 48
$7,694.42
Add to Order
KS-7161
2.000
24 x 24
$7,694.42
Add to Order
PEEK 30% Glass-Filled Sheets
Part #
Thickness (in.)
Size (in.)
Price
Order Online
KS-7166
.250"
12" x 12"
$647.40
Add to Order
KS-7177
.250"
12" x 24"
$1,295.40
Add to Order
KS-7173
.500"
12" x 12"
$1,233.16
Add to Order
KS-7174
.500"
12" x 24"
$2,466.32
Add to Order
KS-7175
.500"
12" x 48"
$4,932.66
Add to Order
KS-7150
.500"
24" x 24"
$4,932.66
Add to Order
KS-7169
.500"
24" x 48"
$9,865.30
Add to Order
KS-7146
.750"
12" x 12"
$1,761.66
Add to Order
KS-7147
.750"
12" x 24"
$3,523.32
Add to Order
KS-7158
.750"
12" x 48"
$7,046.64
Add to Order
KS-7149
.750"
24" x 24"
$7,046.64
Add to Order
KS-7141
.750"
24" x 48"
$14,093.26
Add to Order
KS-7559
1.00"
12" x 12"
$2,348.86
Add to Order
KS-7591
1.00"
12" x 24"
$4,697.74
Add to Order
KS-7590
1.00"
12" x 48"
$9,395.46
Add to Order
KS-7589
1.00"
24" x 24"
$9,395.46
Add to Order
KS-7588
1.00"
24" x 48"
$18,790.94
Add to Order
KS-7704
1.25"
24" x 48"
$9,576.84
Add to Order
KS-7703
1.50"
24" x 24"
$4,788.60
Add to Order
KS-7702
1.75"
12" x 12"
$1,666.44
Add to Order
KS-7701
1.75"
12" x 24"
$3,335.00
Add to Order
KS-7687
1.75"
24" x 24"
$6,668.22
Add to Order
KS-7574
2.00"
12" x 12"
$4,588.86
Add to Order
KS-7573
2.00"
12" x 24"
$9,401.57
Add to Order
KS-7572
2.00"
12" x 48"
$18,355.45
Add to Order
KS-7536
2.00"
24" x 24"
$18,355.45
Add to Order
KS-4068
2.00"
24" x 48"
$31,338.60
Add to Order