Nylon, Wear Resistant Nylatron® Rod
(Extruded-MD Filled, Nylatron® GS)
(Cast-Hyd-Cast MDS, Nylatron® GSM)
Wear-resistant nylon is molybdenum disulfide (MDS) filled. The color is grey-black. Custom sizes are available up to six feet.
Applications

•Rope sheaves and belt pulleys

•Pile driver caps

•Telescoping boom wear pads

Wear Resistant nylon is used for many high loading, wear applications.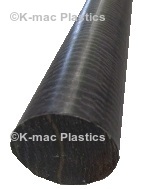 Nylon MD Rod Extruded
Diameter
Tolerances
Up to 1.00"
±.001
Over 1.00"
+.005/.000