Cast Nylon Oil-Filled Sheets
Nycast® Nyloil® was developed to extend the wear-resistant properties of unlubricated or dry lubricated materials such as MoS2 filled nylons.
These will last 5 to 7 times longer than unlubricated or MoS2 dry lubricated cast nylons. Lubrication results in 25% lower coefficient of friction.
These exhibit more dimensional stability due to reduced moisture absorption. Internal lubricant provides for faster and easier machining than other nylons.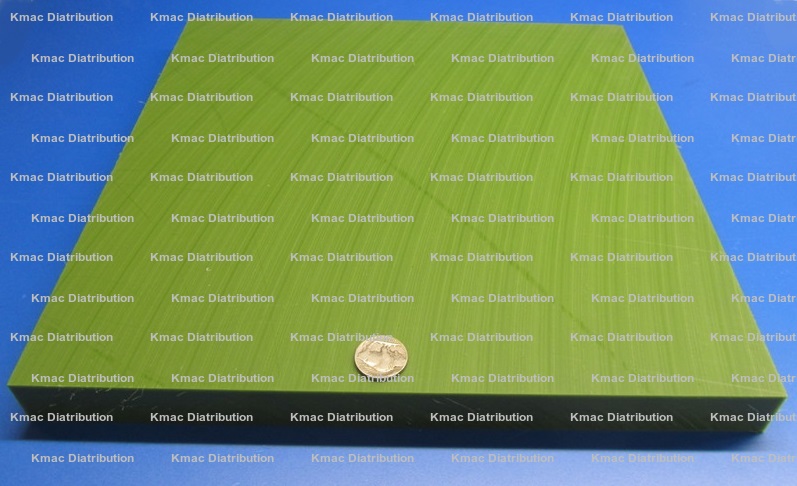 Green Oil Filled Cast Nylon Sheet

Thickness (in.)
Size (in.)
Part #
Price Each
Order Online
0.250
12 x 12
KS-1821
$67.18
Add to Order
0.250
12 x 24
KS-1830
$134.36
Add to Order
0.250
12 x 48
KS-1839A
$358.48
Add to Order
0.250
24 x 24
KS-1848A
$394.24
Add to Order
0.250
24 x 48
KS-1856A
$485.80
Add to Order
0.375
12 x 12
KS-3224
$59.63
Add to Order
0.375
12 x 24
KS-3225
$107.33
Add to Order
0.375
12 x 48
KS-3226
$214.65
Add to Order
0.375
24 x 24
KS-1849A
$214.65
Add to Order
0.375
24 x 48
KS-3227
$429.30
Add to Order
0.375
48 x 120
KS-3229
$1,908.00
Must Ship By Truck
0.625
24 x 48
KS-16980
$511.49
Add to Order
0.500
12 x 12
KS-3230
$62.07
Add to Order
0.500
12 x 24
KS-3231
$111.76
Add to Order
0.500
12 x 48
KS-3232
$223.49
Add to Order
0.500
24 x 24
KS-1850A
$223.49
Add to Order
0.500
24 x 48
KS-3233
$447.01
Add to Order
0.500
48 x 120
KS-3235
$1,986.66
Must Ship By Truck
0.750
12 x 12
KS-3236
$99.27
Add to Order
0.750
12 x 24
KS-3237
$198.52
Add to Order
0.750
12 x 48
KS-3238
$397.06
Add to Order
0.750
24 x 24
KS-1851A
$397.06
Add to Order
0.750
24 x 48
KS-3239
$794.09
Add to Order
0.750
48 x 120
KS-3241
$3,529.34
Must Ship By Truck
0.875
24 x 48
KS-16976
$1,580.18
Add to Order
1.000
12 x 12
KS-3242
$192.56
Add to Order
1.000
12 x 24
KS-3243
$389.16
Add to Order
1.000
12 x 48
KS-3244
$759.62
Add to Order
1.000
24 x 24
KS-1852A
$759.62
Add to Order
1.000
24 x 48
KS-3245
$1,245.28
Add to Order
1.250
12 x 12
KS-3248
$249.10
Add to Order
1.250
12 x 24
KS-3249
$490.36
Add to Order
1.250
12 x 48
KS-3250
$957.16
Add to Order
1.250
24 x 48
KS-3251
$1,569.12
Add to Order
1.500
12 x 12
KS-3254
$328.28
Add to Order
1.500
12 x 24
KS-3255
$574.40
Add to Order
1.500
12 x 48
KS-3256
$1,121.02
Add to Order
1.500
24 x 24
KS-1853A
$917.64
Add to Order
1.500
24 x 48
KS-3257
$1,838.08
Add to Order
2.000
12 x 12
KS-3260
$337.06
Add to Order
2.000
12 x 24
KS-3261
$630.18
Add to Order
2.000
12 x 48
KS-3262
$1,434.72
Add to Order
2.000
24 x 24
KS-1854A
$1,260.40
Add to Order
2.000
24 x 48
KS-3263
$2,353.76
Add to Order
2.000
48 x 120
KS-3265
$8,254.66
Add to Order
2.500
12 x 12
KS-3266
$460.70
Add to Order
2.500
12 x 24
KS-3267
$906.66
Add to Order
2.500
12 x 48
KS-3268
$1,770.22
Add to Order
2.500
24 x 48
KS-3269
$2,902.08
Add to Order
2.500
48 x 120
KS-3271
$11,098.46
Add to Order
3.000
12 x 12
KS-3272
$548.00
Add to Order
3.000
12 x 24
KS-3273
$1,078.76
Add to Order
3.000
12 x 48
KS-3274
$2,105.72
Add to Order
3.000
24 x 24
KS-1855A
$2,105.72
Add to Order
3.000
24 x 48
KS-3275
$3,450.56
Add to Order
3.500
12 x 12
KS-3278
$637.56
Add to Order
3.500
12 x 24
KS-3279
$1,275.18
Add to Order
3.500
12 x 48
KS-3280
$2,550.34
Add to Order
3.500
24 x 48
KS-3281
$5,100.66
Add to Order
4.000
12 x 12
KS-3284
$758.74
Add to Order
4.000
12 x 24
KS-3285
$1,517.48
Add to Order
4.000
48 x 96
KS-3289
$12,256.20
Add to Order