.187" Thickness U-Channels
304 SS: Annealed. Operating Temperature -320° to 1600° F, ASTM A276, A479. 30,000 PSI Yield Sold in lengths of 84".
A-36 Steel: General Purpose, weldable, machinable.
Aluminum 6063-T52: Meets ASTM-B221, AMS-QQA-200/9.
Fiberglass GP03: High Strength, Non Conductive, Paintable, Operating Temperature: 0° to +285° F., UL 94VO Flame Retardant. Opaque Red.
Fiberglass: High Strength, Non Conductive, Paintable. Operating Temperature: -45° to +140° F. Sold in 5' lengths
Polypropylene: Chemical Resistant, Semi Flexible, UL 94 HB Rated, Operating Temperature 40° to +210° F. Sold in 5' lengths. Semi Translucent White in Color
PTFE: White, Low Friction, Impact Resistant, Insulating, UL94VO Rated Flame Retardant, FDA, 3A, ASTM D1710 AMS 3651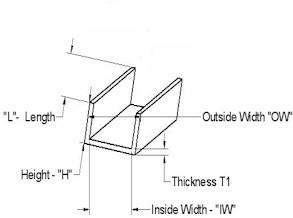 .187" Thickness U-Channels

Part #
Material
Outside Width
Height
Length
Price Each
Order Online
Channel-225
304 Stainless Steel
2.00"
1.00"
288" R/L
$615.88
*
Channel-227
304 Stainless Steel
3.00"
1.50"
288" R/L
$869.54
*
Channel-188
304 Stainless Steel
3.00"
1.50"
84"
$436.72
Add to Order
Channel-342
A-36 Steel
2.00"
1.00"
72"
$92.12
Add to Order
Channel-007
Aluminum 6063-T52
1.50"
.5625"
240"
$168.25
*
Channel-009
Aluminum 6063-T52
2.00"
.5625"
240"
$166.53
*
Channel-012
Aluminum 6063-T52
2.00"
1.00"
240"
$177.91
*
Channel-013
Aluminum 6063-T52
2.50"
.6258"
240"
$187.64
*
Channel-299
Aluminum 6063-T52
5.00"
2.00"
240"
$402.19
*
Channel-300
Aluminum 6063-T52
5.00"
2.00"
240"
$402.19
*
Channel-446
Aluminum Alloy 2024
2.00"
2.50"
36"
$637.35
Add to Order
Channel-447
Aluminum Alloy 2024
2.00"
2.50"
72"
$1,118.18
Add to Order
Channel-452
Aluminum Alloy 2024
2.50"
1.75"
36"
$559.58
Add to Order
Channel-453
Aluminum Alloy 2024
2.50"
1.75"
72"
$981.75
Add to Order
Channel-456
Aluminum Alloy 2024
3.00"
1.75"
36"
$595.98
Add to Order
Channel-457
Aluminum Alloy 2024
3.00"
1.75"
72"
$1,045.59
Add to Order
Channel-425
Aluminum Alloy 6063
5.00"
2.00"
48"
$166.48
*
Channel-358
Fiberglass GPO-3
3.660"
2.562"
36"
$58.60
Add to Order
Channel-364
Fiberglass GPO-3
3.660"
2.562"
72"
$97.68
Add to Order
Channel-359
Fiberglass GPO-3
4.25"
2.00"
36"
$66.28
Add to Order
Channel-360
Fiberglass GPO-3
4.75"
1.63"
36"
$58.18
Add to Order
Channel-366
Fiberglass GPO-3
4.75"
1.63"
72"
$97.10
Add to Order
Channel-362
Fiberglass GPO-3
6.50"
2.75"
36"
$96.14
Add to Order
Channel-377
Fiberglass-Olive Green
3.50"
1.50"
60"
$55.36
Add to Order
Channel-405
Polypropylene
2.50"
2.25"
60"
$122.80
Add to Order
Channel-406
Polypropylene
2.50"
3.25"
60"
$149.00
Add to Order
Channel-390
PTFE
1.880"
2.50"
60"
$1,705.36
Add to Order