7.00" Outside Width U Channels
Aluminum 6061-T6: Easy to drill, machine, saw and punch. Excellent at resisting moisture and strong for its light weight. Meets ASTM B308, AMS-QQA-200/16, ASME-5B308.
Steel A-36: Suitable for general usage in production and maintenance work and easily welds. Good for machining, drilling, tapping, punching and grinding.
Aluminum Alloy 2024: Extra Strength Aircraft Grade with superior strength and good machinability. Unpolished mill finish, temper T3511, conforms to AMS QQ-A-200/3.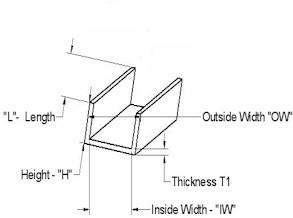 7.00" Outside Width U Channels

Part #
Material
Thickness T1
Height
Length
Price Each
Channel-246
Aluminum 6061-T6
.170"
2.75"
300"
$641.97
Channel-247
Aluminum 6061-T6
.210"
3.50"
300"
$895.37
Channel-262
Aluminum 6061-T6
.230"
2.11"
300"
$684.84
Channel-047
Steel A-36
.210"
2.09"
240"
$225.80
Channel-048
Steel A-36
.210"
2.09"
360"
$320.76
Channel-049
Steel A-36
.210"
2.09"
480"
$438.64
Channel-050
Steel A-36
.314"
2.09"
240"
$305.76
Channel-051
Steel A-36
.314"
2.194"
480"
$599.28
Channel-052
Steel A-36
.419"
2.299"
240"
$370.22
Channel-053
Steel A-36
.419"
2.299"
480"
$718.62
Channel-138
Steel A-36
.352"
3.452"
240"
$513.80
Channel-139
Steel A-36
.352"
3.452"
480"
$1,025.28
Channel-140
Steel A-36
.503"
3.603"
240"
$640.60
Channel-141
Steel A-36
.503"
3.603"
240"
$1,258.48
Channel-203
Aluminum 6061
T1 = .170" - T2= .290"
2.75"
60"
$334.15
Channel-208
Aluminum 6061
T1 = .210" - T2= .380"
3.50"
60"
$468.16