2.00" Outside Width Channels
304 SS: Annealed. Operating Temperature -320° to 1600° F, ASTM A276, A479. 30,000 PSI Yield Sold in lengths of 84".
A36 Steel: General Purpose, weldable, machinable.
Aluminum 6061-T6: ASTM B308, AMS-QQA-200/16, ASME-5B308. Can be Heat Treated. Non Magnetic. Operating Temperature -320° to 300° F
Aluminum 6063-T52: Meets ASTM-B221, AMS-QQA-200/9.
Aluminum 6063: Corrosion Resistance, weldable and heat treatable, non-magnetic. Unpolished mill finish.60 Brinell, 16,000 PSI Yield Strength, . -320° F to +212° F Operating Temperatures.
Fiberglass: High Strength, Non Conductive, Paintable. Operating Temperature: -45° to +140° F. Sold in 5' lengths
UHMWPE: Impact Resistant, Wear Resistant, Insulating, Machinable. ASTM D4020, D6712, D4076, 3-A, FDA, USDA. Operating Temperature -40° to +180° F, Softening Temperature: 260 F,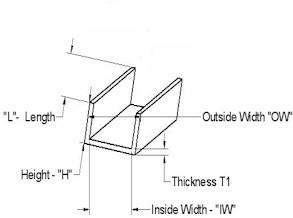 2.00" Outside Width Channels

Part #
Material
Thickness T1
Height
Length
Price Each
Order Online
Channel-224
304 Stainless Steel
.125"
1.00"
288" R/L
$482.48
Special Order
Channel-225
304 Stainless Steel
.187"
1.00"
288" R/L
$615.88
Special Order
Channel-226
304 Stainless Steel
.250"
1.00"
288" R/L
$708.70
Special Order
Channel-189
304 Stainless Steel
.250"
1.00"
84"
$384.02
Add to Order
Channel-342
A-36 Steel
.187"
1.00"
72"
$92.12
Add to Order
Channel-341
A-36 Steel
.250"
.625"
96"
$94.40
*
Channel-235
Aluminum 6061-T6
.130"
1.00"
300"
$197.92
*
Channel-236
Aluminum 6061-T6
.170"
1.25"
300"
$269.47
*
Channel-290
Aluminum 6063-T52
.125"
.500"
192"
$150.54
*
Channel-291
Aluminum 6063-T52
.125"
1.00"
192"
$161.80
*
Channel-011
Aluminum 6063-T52
.125"
1.00"
240"
$151.13
*
Channel-293
Aluminum 6063-T52
.125"
1.00"
290"
$191.49
*
Channel-009
Aluminum 6063-T52
.187"
.562"
240"
$166.53
*
Channel-012
Aluminum 6063-T52
.187"
1.00"
240"
$177.91
*
Channel-010
Aluminum 6063-T52
.250"
.625"
240"
$187.64
*
Channel-295
Aluminum 6063-T52
.250"
2.00"
192"
$282.52
*
Channel-443
Aluminum Alloy 2024
.125"
1.00"
36"
$293.20
Add to Order
Channel-444
Aluminum Alloy 2024
.125"
1.50"
36"
$350.66
Add to Order
Channel-445
Aluminum Alloy 2024
.125"
1.50"
72"
$615.23
Add to Order
Channel-197
Aluminum 6061
.130"
1.00"
60"
$68.36
Add to Order
Channel-446
Aluminum Alloy 2024
.187"
2.50"
36"
$637.35
Add to Order
Channel-447
Aluminum Alloy 2024
.187"
2.50"
72"
$1,118.18
Add to Order
Channel-416
Aluminum Alloy 6063
.125"
.500"
48"
$51.42
*
Channel-423
Aluminum Alloy 6063
.125"
1.00"
48"
$69.24
*
Channel-424
Aluminum Alloy 6063
.250"
2.00"
48"
$133.76
*
Channel-314
Fiberglass-GP Grey
.125"
.562"
60"
$24.62
Add to Order
Channel-383
Fiberglass- Olive Green
.125"
.560"
60"
$21.62
Special Order
Channel-466
UHMWPE (USDA)
.250"
.980"
24"
$14.48
Add to Order
Channel-465
UHMWPE (USDA)
.250"
.980"
60"
$36.20
Add to Order
Channel-464
UHMWPE (USDA)
.250"
.980"
96"
$57.92
*