1.00" Outside Width Channels
A-36 Steel: General Purpose, weldable, machinable.
Aluminum 6063-T52: Meets ASTM-B221, AMS-QQA-200/9.
Aluminum Alloy 2024: Unpolished mill finish, T3511 Temper, Operating Temperature -320° to 300° F. AMS QQ-A-200/3.
Aluminum 6063: Corrosion Resistance, weldable and heat treatable, non-magnetic. Unpolished mill finish.60 Brinell, 16,000 PSI Yield Strength, . -320° F to +212° F Operating Temperatures.
Brass Alloy 385: Unpolished mill finish. B65 Rockwell Hardness, 20,000 PSI Yield, ASTM B455. 8' lengths.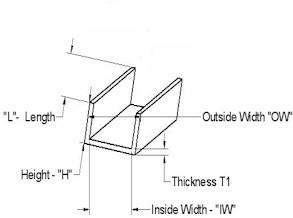 1.00" Outside Width Channels

Part #
Material
Thickness T1
Height
Length
Price Each
Order Online
Channel-340
A-36 Steel
.125"
.500"
72"
$40.06
Add to Order
Channel-278
Aluminum 6063-T52
.125"
.500"
192"
$131.22
*
Channel-280
Aluminum 6063-T52
.125"
.500"
240"
$126.56
*
Channel-281
Aluminum 6063-T52
.125"
1.00"
192"
$149.98
*
Channel-002
Aluminum A-36
.125"
.500"
240"
$72.16
*
Channel-003
Aluminum A-36
.125"
.500"
240"
$73.54
*
Channel-432
Aluminum Alloy 2024
.062"
.500"
36"
$149.84
Add to Order
Channel-433
Aluminum Alloy 2024
.062"
.500"
72"
$262.89
Add to Order
Channel-434
Aluminum Alloy 2024
.062"
.750"
36"
$148.30
Add to Order
Channel-435
Aluminum Alloy 2024
.062"
.750"
72"
$260.19
Add to Order
Channel-436
Aluminum Alloy 2024
.125"
1.25"
36"
$270.27
Add to Order
Channel-437
Aluminum Alloy 2024
.125"
1.25"
72"
$474.15
Add to Order
Channel-412
Aluminum Alloy 6063
.125"
1.00"
48"
$49.84
*
Channel-305
Brass Alloy 385
.125"
.750"
96"
$268.54
*